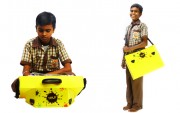 Students in third world countries lack access to basic educational infrastructure, as basic as school bag, a desk, a light source to study at night. YELO a revolutionary School Bag cum Desk helps students to meet their basic education needs.
Pune, India, August 18, 2014 (Newswire.com) - Prayas Innovation, an international social enterprise, announces the launch of its product 'YELO', a revolutionary bag that converts into a school desk. This bag would empower the students studying in rural areas of third world countries to study more efficiently.
With over 95 million students out of school world-wide, India ranks highest amongst countries with student not attending school. Students in rural areas lack access to basic educational infrastructure. As basic as a desk. Sitting on floor in incorrect posture for long working hours results in back pain, bad eyesight and inability to concentrate and study.
YELO, an intelligently designed school bag, helps children carry their books, belonging, irrespective of the weather conditions. The same bag with a single fold technique smartly transforms into a school desk. The desk offers and angle of 30- 35 degrees for students to write and read, thus ensuring they maintain an ergonomic posture while studying.
Energy For All
1 in 3 people across the globe lack access to electricity. Remote areas face heavy power cuts, thereby making it difficult for children to study at night. Yelo is built with a LED light source, to delivering light for more than 6-8 hours, thus empowering students and rural household to carry out their evening chores.
"Yelo comes with a handy solar kit that powers the LED light. The rechargeable battery in solar kit can be charged through solar energy as well as supports AC charging. Solar kit can also be used for other application like charging mobile phones in case of emergency," explains Anurag Saini, the product designer in the team.
YELO is an outcome of several months of research, user trails. On occasion of Indian Independence day, Prayas had distributed Yelo at schools in rural areas of Maharashtra. Yelo made up of corrugated sheet is durable and has to strength to carry belongings worth more than 5 kg.
"We looks forward to collaborate with corporates, NGO's and other social organizations who share similar vision for working towards this cause."- says Manish Mathur, Managing Director of Prayas Innovation.
About Prayas Innovation:
Prayas Innovation, is an international social enterprise that addresses the challenges faced by society in areas of Energy, Education and Health. The company aims to improve the quality of life of people in third world countries thus forming a healthier, safer and civilized society. With a vision to deliver and implement need based, low cost innovative products, every day at Prayas is an attempt to improve the quality of life through intelligent design.
The multidisciplinary team of designers, engineers and people with expertise in diverse walks of life is led by advisors and mentors who have worked with companies like Phillips, Suzlon, and professors from renowned universities.

For more information: www.prayasinnovation.com
Media Contact: Alok Kumar, Chief Operating Officer
                            prayasinnovation@gmail.com
                            +91 96 5758 7050